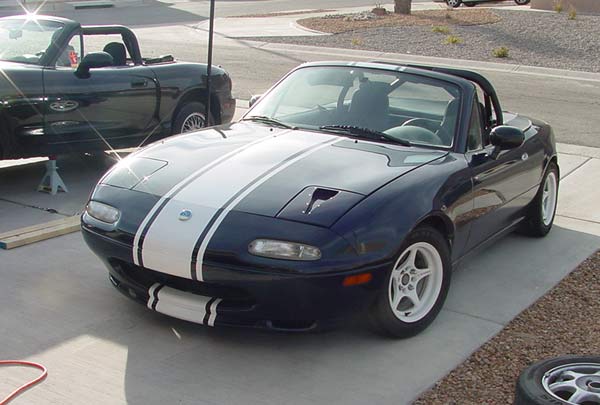 A completed NACA duct air inlet, installed on my Miata

Looking for instructions on making your own duct?
Check out my NACA duct install page. I took plenty of pictures and tried to detail each step of the process of creating your own NACA duct headlight lid. On this page (the one you're looking at right now), you won't find specific slot-a to tab-b instructions, but you will learn a little about NACA ducts in general.


About NACA ducts
A NACA duct is a common form of low-drag intake design, originally developed by the National Advisory Committee for Aeronautics in 1945. When properly implemented, it allows fluid (usually air) to be drawn into an internal duct, with a minimal disturbance to the flow or increase in drag. The design was originally called a "submerged inlet," since it consists of a shallow ramp with curved walls recessed into the exposed surface of a streamlined body, such as an airplane or race car. (thanks Wikipedia!)
A few words on implementing your own NACA duct as a means of induction to your race car. 1: design is very important. The duct is designed to be efficient with the correct wall angles (sharp), base slope, and width-to-depth ratio. 2: The duct needs to be installed in an area of high pressure. A leading edge of a car is a great place. The Miata headlight is almost too far back. Placing a NACA-style duct on a car hood would result in a poorly flowing inlet, in my opinion. 3: most headlight inlet ducts on the market (at least for Miatas) are not of the correct design, so don't look at them as examples. At the time of this writing, you could download the original NACA spec from
their archive
. Just in case it moves and I don't notice, I've included a few key pieces from the report.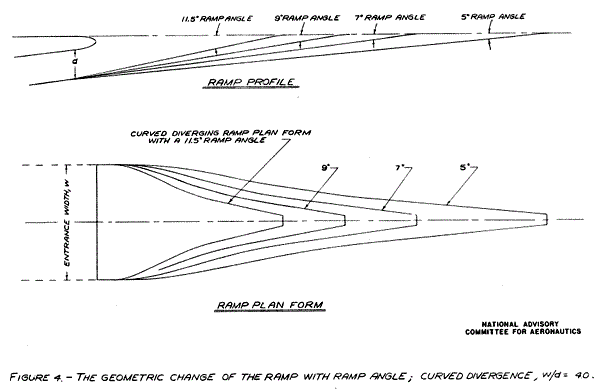 A width-to-depth ratio of about 3-5 and a ramp angle of about 7 degrees is optimal.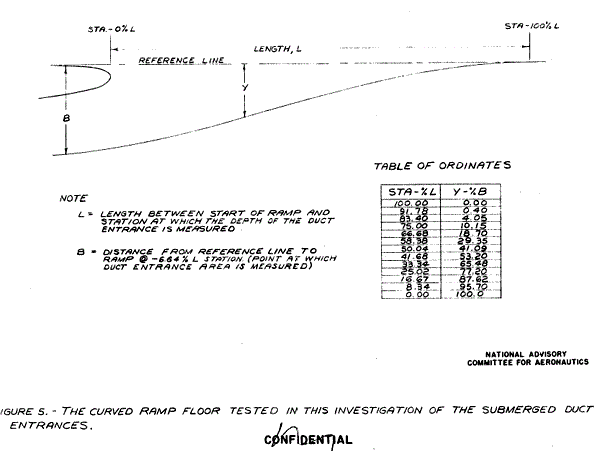 Take note of the airfoil at the back of the duct. It enhances the duct's performance.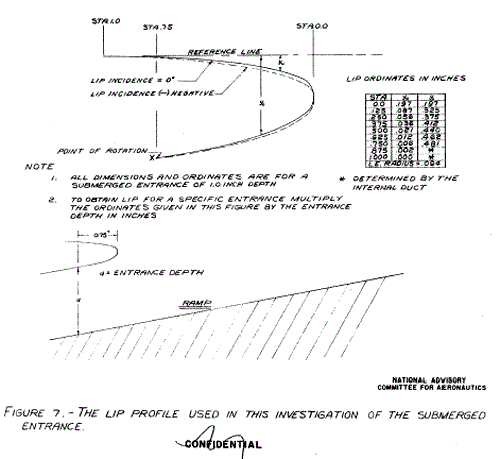 Airfoil lip profile: a nice, rounded profile provides best suction.
Where to get one
Life is already hard enough. Building a NACA duct won't be the easiest thing you've ever tried to do with your dremel and some sheet metal, so why not make it a little less painful? There are places on the web from which you can buy a pre-fabricated NACA duct. All you've got to do is somehow install it on your car. The one you see here came from
McKinney Corp
, a business that usually caters to drag racers. They sell 3 sizes of NACA duct that will easily fit into most popup headlights (at least, they fit Miata headlights). The one I have is the largest, their 4" duct, which fits between my
dual Moss low-pro headlights
perfectly. There are other sources which can be found with a quick Google search, but I was so happy with McKinney, that they're the only one I'll link to on this page. The duct was very inexpensive at about $30 shipped.

NACA duct photos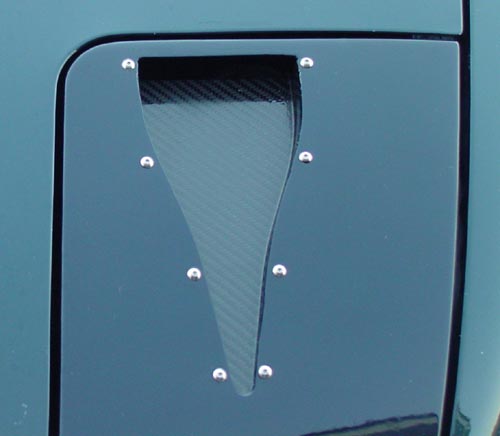 The installed duct. Note the 90 degree edges.
This is an example of a correctly designed NACA inlet, in my opinion. It's installed in a high pressure zone and maintains each and every attribute that contributes to a high efficiency, low drag inlet. The only room for improvement is a curved floor, but, since the duct comes from a 3rd party, that's not really a possibility. The duct is installed with Bondo to make a sharp wall, then reinforced with stainless button head cap screws.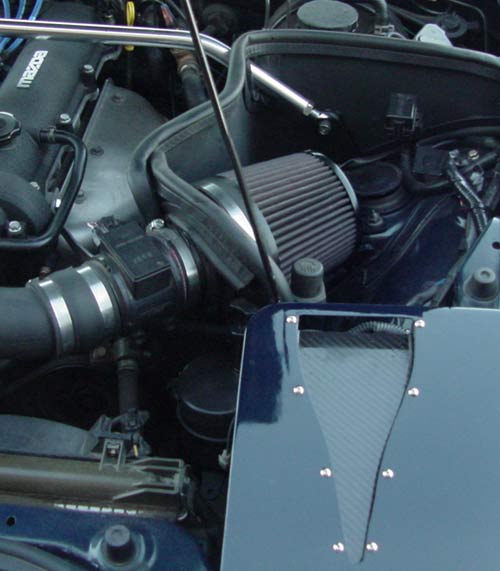 What the duct is feeding.
Here is the duct delivering cold air to my filter (a few airbox incarnations ago). The airbox assures that the cold air isn't simply zooming past the filter. The box also doesn't seal completely. There's a small void in the back section to keep the airflow from stalling.
My 2nd attempt at a headlight lid intake.
This pic shows my coldside intake. You can see the filter directly being blown upon by the duct. This picture shows an absence of an airfoil at the back of the duct.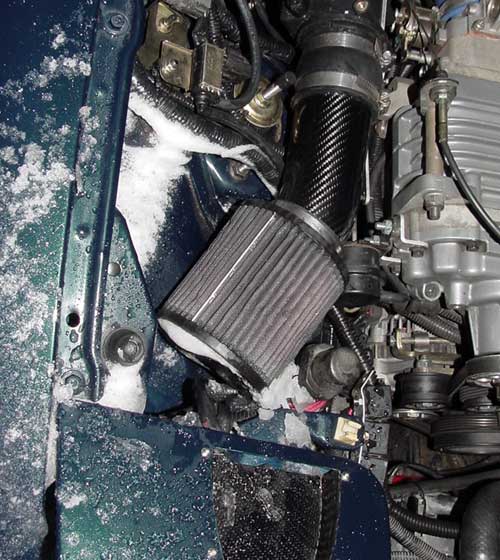 A new definition for "Cold air intake."
Some folks seem to think that air will not flow into a NACA headlight lid intake, but rather flows outward. This photo is my attempt to answer that question visually. In reality, I was caught in a blizzard in my Miata, but afterward I found this nice little snow drift and thought to take a picture of it. Air indeed flows in the duct, even at 10 mph (the speed I got to creep home at that day).
Original 97 engine with intake being fed by the NACA duct.

Site Navigation
Latest Blog Posts
Cappuccino Leather Armrest Lid
Posted on Thu, 22 Oct 2020 21:28:29 +0000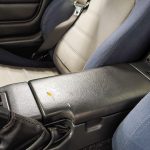 A repeat of a very very old Miata project. The Cappuccino gets a leather console lid.
Read more...
It's nice when Cappuccinos start…
Posted on Fri, 09 Oct 2020 02:03:26 +0000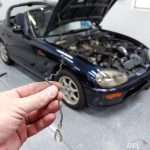 Being 25 years old, rare, and imported, there's a lot of unknowns about my Cappuccino. Also the fact that I work from home and don't drive all that much. Recently, Cap decided he didn't like starting up all the time. No fun. As an upstanding member of the 90s Turbo JDM Society(tm), my Cappuccino came […]
Read more...
Retromodern NA6 Interior Lights
Posted on Fri, 10 Jul 2020 12:48:42 +0000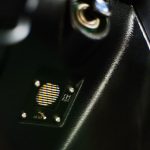 Upgraded LED interior lights from Retromodern. With micro toggles and vintage metal grills!
Read more...
Hardtop Rattle Rx
Posted on Mon, 15 Jun 2020 03:05:42 +0000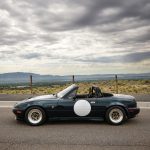 The hardtop rear legs can be adjusted. Here's wayyyy too many photos and far too much text about doing that, along with some celebratory topless Sharka pix.
Read more...
Shift the Galaxy
Posted on Sun, 17 May 2020 22:01:07 +0000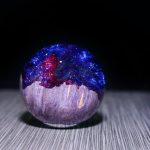 A very special galaxy shift knob for Sharka. And also some toy photos!
Read more...