I've been jealous of the front splitters available for the NB Miatas (and RX-7s and S2000s, and WRXs...) for a while now. Not only does it look good, but it protects the chin spoiler, and it might actually increase the effect of the chin spoiler at high speeds. So I waited and waited, but no one came out with one for the lowly NA Miata. I guess there's not much of a market there. Only a half million of them or so on the roads...
For those wishing to make a splitter for your NA, here's a shopping list:
1 sheet of 1/8" thick black ABS plastic ($50 at most sources) at least 4 feet by 4 feet.
1 Mazda airdam (chin spoiler). It measures 56" wide by 10" deep. A 4' x 4' square on the diagonal will make you two splitters minimum.
~10 nylon bolts and washers. I used 1/4" hardware.
1 dremel with a circular cutting disc and a drum sanding bit.
Cardboard for making a splitter pattern.
"Gem clips" from an office supply store for mounting the pattern and later the splitter on your airdam.
Heat gun for final tweaking of the splitter. You may have a slight upward angle at the center otherwise.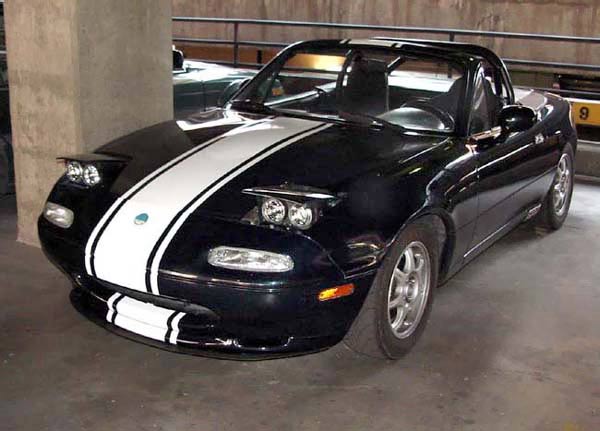 Sharka with splitter - it's below the chin spoiler for those who can't tell
The splitter is pretty low-key. Definitely not like the big one with angle struts you see on many Speed Touring Car championship cars. As I said, it's mainly for protection. I tried to follow the angle of the airdam/spoiler as closely as possible. At the edges, it blends into the spoiler.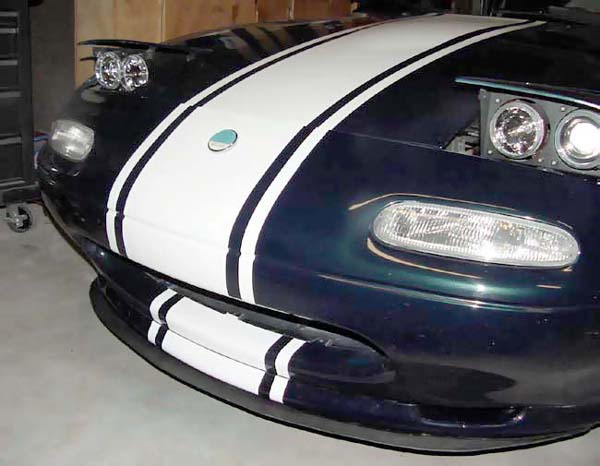 Closer showing the shape of the splitter
Please try to ignore the crazy neo-modern artistic look of this photo. I touched up the levels in photoshop in an attempt at showing details. It worked, but I had to run a smoothing filter to destroy alot of blocky artifacts. That's what I get for taking a photo of a dark object on a dark car in a dark garage...
The splitter sticks out about 1.25" from the lip. Any more and it would be very obvious and *gasp* ricey. Any less and I feel it wouldn't protect much. The ABS plastic is textured on the top. In this photo it looks kinda light. That's from the flash. The splitter has a very even flat black finish. You can really see the shape of the splitter here. I didn't want something that would increase the width of my nose and possibly contribute to my cone count at autocrosses, so I made the splitter angle in toward the airdam right at the outside edges of the brake ducts. I've only run one event with the splitter, but it seems to not hit the cones. It's just the rest of the car that hits cones...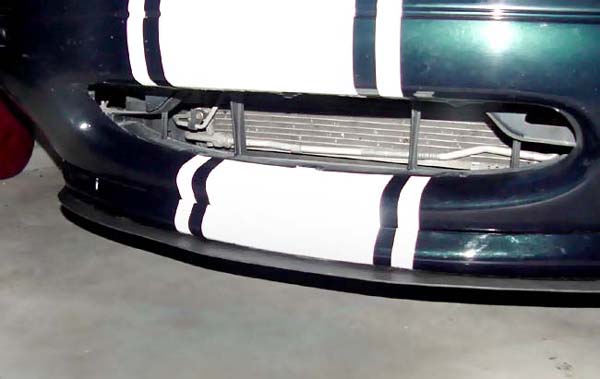 From the front, down low
Again with the neo-modern round-cornered brush techniques. At least you can see some detail now.... You see how nice and flat it is at the bottom. I have a very small bubble-level that I checked the angle of the splitter with. It comes out to about a half-bubble down angle at the center, nearly perfectly flat up to the brake cooling ducts, and then goes upwards at about a half-bubble past the ducts toward the outside edge. Some slight fine tuning with a heat gun was required to achieve this even flatness across the entire splitter. It looks
really
low to the ground, doesn't it?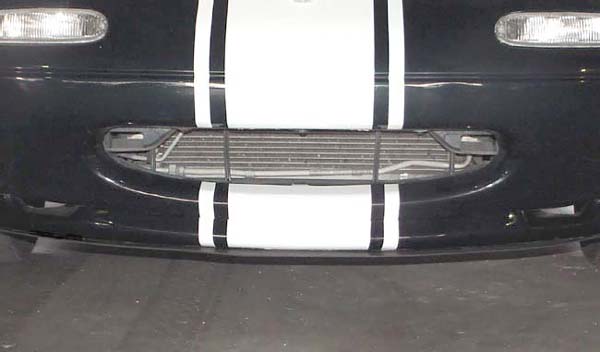 The splitter lives 4.5 inches above the ground
This photo just illustrates how flat the NA chin spoiler is at the bottom. Without this flat surface, the splitter would not end up very flat at all. Currently, the intersection of the splitter and airdam is not sealed. I may use a very thin bead of black RTV silicon to insure no air is making it through any cracks.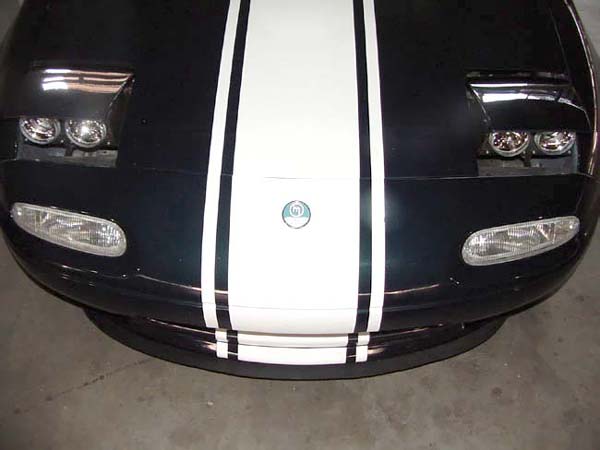 Fisheye shot from above
This photo has an interesting fisheye effect. This is strange since I was using a flat lens. I thought I'd include it to show how far the splitter comes out from the bumper. This distorted photo does make it look kinda like Sharka's sticking out his tongue though.
If you have any questions on building your own, just shoot me an email.

Site Navigation
Latest Blog Posts
Mona Visits Joshua Tree
Posted on Sat, 26 Jun 2021 03:21:12 +0000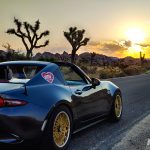 Mona checks out the curious multi-armed residents of Joshua Tree National Park
Read more...
KINOD 15
Posted on Sun, 20 Jun 2021 22:49:33 +0000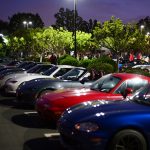 Mona and I made the pilgrimage to SoCal for the 15th Anniversary KINOD Event.
Read more...
NA Miata Ignition Switch Replacement / Refurbish
Posted on Fri, 12 Mar 2021 22:56:07 +0000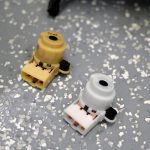 Is your NA Miata not starting anymore? A bad ignition switch may be the problem.
Read more...
Tiniest Subwoofer Ever
Posted on Thu, 11 Feb 2021 17:11:51 +0000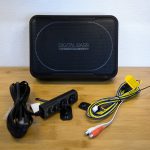 21 years without any bass was just too long. Sharka finally has something more than two tiny 6.5s to play music with.
Read more...
Mona's New Shoes
Posted on Tue, 12 Jan 2021 00:38:45 +0000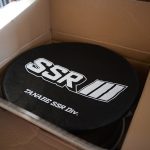 The ND finally dumps the stock wheels in favor of something a little more classy.
Read more...